Regarding our AUBURN LOCATION: We are consolidating our Auburn practice into the Roseville and Grass Valley locations. If you are an existing patient and have any questions, please call us at 916-771-4872 (Roseville) or 530-273-3312 (Grass Valley). Thank you from the team at Arora Periodontics & Implant Dentistry.
Technology
The Modern and Advanced Technology we use
X-Guide®
Navigate with ease. Plan with confidence. Complete with precision. The new modern X-Guide® dynamic 3D navigation system, provides dental implant surgery that is immediate, less invasive and with more accurate results. Whether you are in need of a single dental implant, or full mouth reconstruction, X-Guide® is a breakthrough technology that allows us to facilitate our patient's precise anatomy and convert it into a 3D, 360-degree view, digital treatment plan. This system was developed to be quick and simple at just a fraction of the coast of traditional guides. Most of the implants placed today, are placed freehand. Which allows more room for error and the possibility of things not going exactly as expected. The way this type of dental implant surgery is done, using the X-Guide®, is we take one scan of our patient using the cone beam scanner, followed by one intra-oral scan and we merge them together. Doing this, reduces the treatment time and increases the accuracy of placing an implant, at the same time it also reduces the cost because most patients will not need any type of revision surgery. The results are immediate, accurate, and less invasive. Perfection is our goal and excellence will be tolerated. Better results, more patient satisfaction.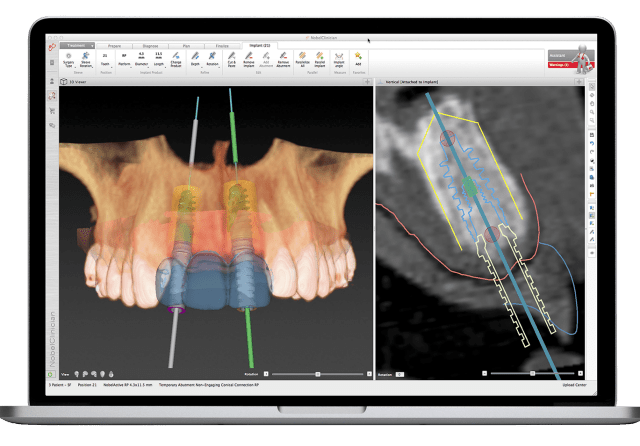 Cone Beam Computed Tomography
CBCT stands for "cone beam computed tomography". This is a particular x-ray machine that is used in situations where standard x-rays are not sufficient. The CBCT uses advanced technology which allows us to view 3D images of a patient's dental structure, soft tissues, bone and nerve pathways within the face and mouth. These special x-rays allow for precise treatments to be put in to effect due to its high quality images and the details within. When the CBCT x-rays are called for, we ask that patients wear comfy and loose fitting clothing and will have to remove any type of metal that can interfere with the scan itself. This includes but is not limited to; jewelry, hairpins, underwire bras and glasses.
Some of the most common procedures in which the CBCT is used are:
Impacted teeth
Locating oral pain
Evaluating jaws, nerves, nasal cavity, and sinuses
Reconstructive surgery
Implant placement
Diagnosing TMJ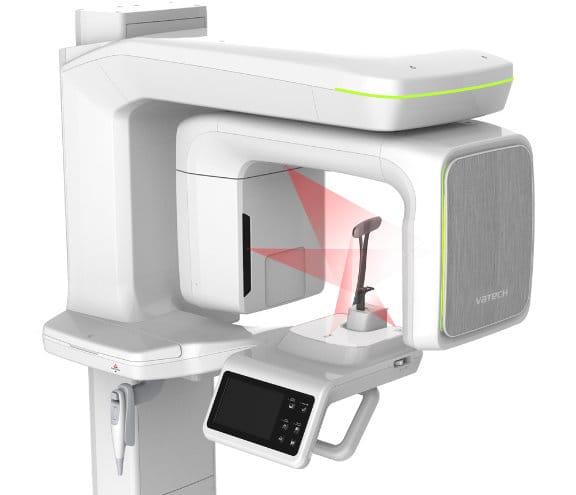 VaTech Green 3D X-Ray
New advances in digital technology have made the quality of dental implant treatment even better! We use high definition CBCT scans done is LESS THAN 6 seconds that allow us to measure bone density and place implants in a very accurate manner. The ability to plan out where the implants need to be placed prior to the surgical procedure allows the patient to spend less time in the chair and makes for a more pleasurable experience.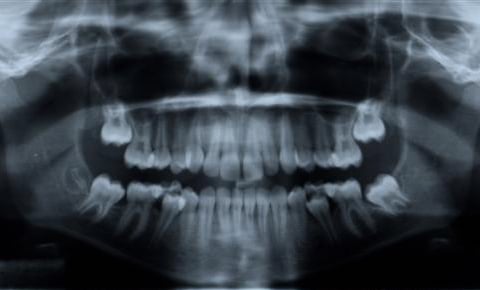 Digital Panoramic X-Rays
Panoramic x-rays offer patients a complete detailed image of the entire mouth including the teeth, jaw (upper and lower), sinuses, and TMJ.
It provides a complete picture on how everything looks and relates to each other.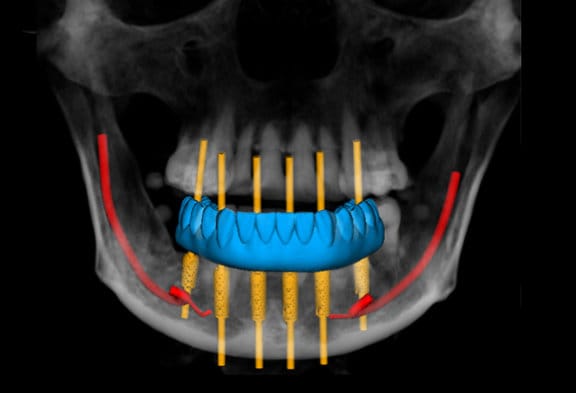 Guided Implant Surgery & Prosthetics
For our dental implant patients, Computer Guided Surgery is a new innovation that improves patient care, plain and simple. Computer Guided Surgery allows for exact planning before the patient ever starts the procedure. This technology helps us to do full arch reconstruction with precise implant placement and immediate temporization with the purpose of providing the patient with highest level of dental care possible. These cases consist of 4-6 implants per jaw. Once the placement is determined, the Surgical Guide and immediate prosthetics are fabricated. This technique allows us to perfectly replicated the procedure in the mouth, eliminating any source of error.
Metal-Free Dental Implants
Arora Periodonics is among the elite few who provide revolutionary metal-free (ceramic) dental implants as an alternative to the traditional titanium dental implants.
Our metal-free dental implants are made from ceramic whcih offer the following benefits:
Offer ideal surfaces for bone adhesion
More natural looking results (no 'metal' coloring showing trhough beneath gums)
IOS Scanners
Intra-oral scanning is latest state-of-the-art digital technique that enables us a faster and more precise digital workflow solution. This new addition helps to make impression taking easier for our patients and completely eliminates the use of older GU like impression material. While at the same time, being more precise and efficient. No more gagging and discomfort while taking impressions.
We use two different types of intra-oral scanners: Medit i500 and 3Shape Trios.
Medit i500
Medit i500 is a digital, 3D intra-oral scanner that produces high resolution dental impressions of your teeth. This helps us with accuracy in mapping your mouth and diagnosing any oral issues.
3Shape Trios
An intra-oral scanner that is wireless and optimized for comfort. It creates high-accuracy impressions that are easy to work with and manage when planning dental treatment.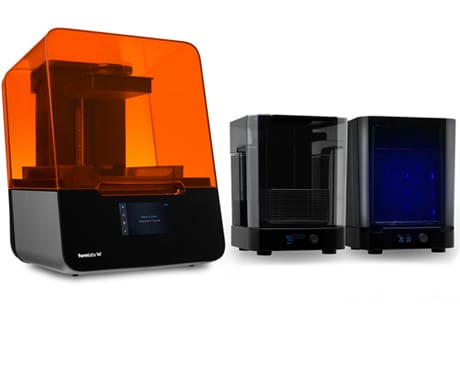 3D Dental Printing
Our 3D dental printer is an entirely new technology in 3D printing, offering both the largest build area and the most accurate printing available in a dentistry today. Our 3D dental printer takes our dentistry and patient care to whole new level as it employs a new masked LCD light engine technology that makes 3D printing accurate, fast, efficient and FUN.
Platelet Rich Plasma
Platelet rich plasma (PRP), a by-product of blood (plasma), is rich in platelets. PRP permits the body to take advantage of the normal healing pathways at a greatly accelerated rate. During the healing process, the body rushes many cells and cell-types to the wound in order to initiate the healing process. One of those cell types is platelets. Platelets perform many functions, including formation of a blood clot and release of growth factors into the wound. These growth factors function is to assist the body in repairing itself by stimulating stem cells to regenerate new tissue. The more growth factors released into the wound, the faster the healing. PRP promotes healing in bone grafting for dental implants, onlay and inlay grafts, sinus lift procedures, ridge augmentation procedures, and closure of cleft, lip, palate defects, repair of bone defects creating by removal of teeth or small cysts, and the repair of fistulas between the sinus cavity and mouth. This is of great significance to the surgeon who places dental implants. By adding PRP your implant surgeon can now grow bone more predictably and faster than ever before.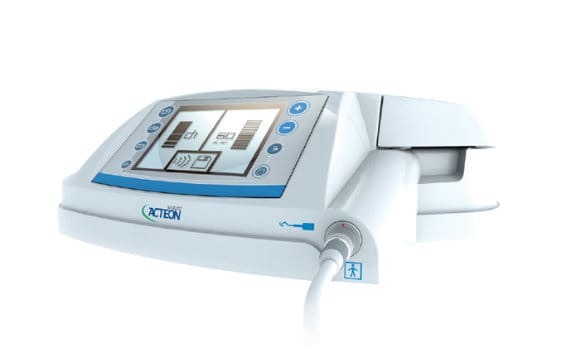 Piezo Surgery
Piezosurgery (Piezoelectric Bone Surgery) is a process that utilizes piezoelectric vibrations in the application of cutting bone tissue. It is indicated for use in oral, maxillofacial, cranial and spinal procedures.
The most notable advantage of this cutting edge technology is that it is possible to cut hard tissue while leaving soft tissue untouched by the process. This technique and advancement helps us to do everyday surgical extractions to maxillary sinus elevation surgery and allows for complication-free results every time.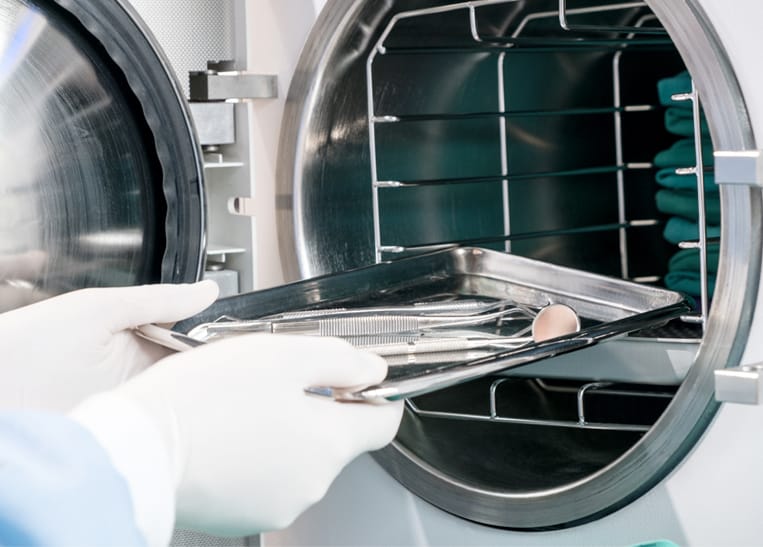 Sterilization
We use a powerful autoclave to sterilize equipment and dental instruments. This helps to safeguard against germs and contamination.
Micro Ultrasonic Scaling
We provide our patients with the luxury of Ultrasonic Scaling. It is more comfortable for patients and allows for the scaling process to be completed faster than having to 'scrape' tooth surfaces like the conventional scaling process.
Intra-Oral Camera
We provide our patients with an intra-oral video examination. This allows both the doctor and the patient to see the condition of the mouth at the same time, then discuss treatment options.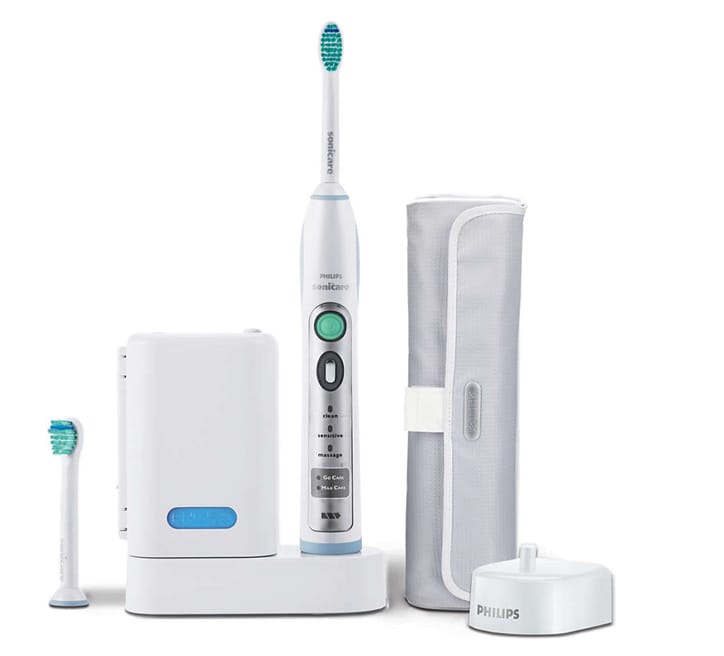 Sonicare
Sonicare's unique, patented combination of high speed bristle motion with extra wide sweeping motion creates effective, yet gentle, dynamic fluid cleaning motion. You get excellent plaque removal, especially in hard-to-reach areas such as between and below the gum line. You can count on naturally whiter teeth and healthier gums.
Sonicare is excellent in battling gum disease, dry mouth, bad breath and tooth sensitivity. Its sweeping motion is very good in cleaning around dental restorations such as implants, crowns and veneers as well as cleaning braces.